Okay, I'll admit I'm kinda compulsive in my 1/1 life, but when I started putting shoulder pads into my dolly uniforms, I realized maybe I really had a problem...
 Well, you be the judge...
Perhaps one of the main reasons why I like modeling German soldiers so much is because their uniforms just looked so darn smart. And the classic Feldbluse (M36-43) is emblematic of that smartness, especially in the first three years of the war when the quality of the tailoring was remarkable for a piece of clothing meant for battle. But I have been frustrated from the first TUS days with the way 1/6 versions have fit on the available bodies. I buy mostly Dragon loose unis and nude bodies (both neo and neo3) because they have been relatively cheap and plentiful, so I can't speak to all the newer offerings from other companies in recent years. But I can tell you that I've never been satisfied with the way any of Dragon's Feldbluse versions have fit on their bodies. A lot of it has to do with the shoulders on the bodies and the way they slope-- it just doesn't fill out the uniform the way a real human body would fill out a real tailored uniform. You can get away with it if you iron it just right and don't use a Y-strap, but as soon as you put any pressure on the shoulders the way a Y strap would, the uniform just collapses and wrinkles, ruining the scale illusion. I actually don't recall anyone else complaining about it, but I'm sure I'm not the only one who notices.
My solution over the years has been to fill out the shoulder with padding, and what started out as an ad hoc method has been refined into a more standardized template, arrived at with a lot of trial and error. I should mention that I don't sew any of it-- it's all done with cut fabric and Fabritac, so it requires no special skills.
I should also mention that there are a few things I always do with all my German unis, which go a long way IMO in making them look better: I always cut off all the snaps (I use Fabritac to secure them, as I don't remove the unis once the figure is done; and anyway Fabritac is removable with acetone), I always cut away all the loose threads from both inside and outside, and I always iron things smooth to take away creases and wrinkles. I also move the top button to the other side if the figure is displayed unbuttoned.
Anyway, here are some pics of a new pattern Dragon M42 plus Y strap on a Neo3 body, as it looks straight out of the box (un-ironed, with snaps, etc):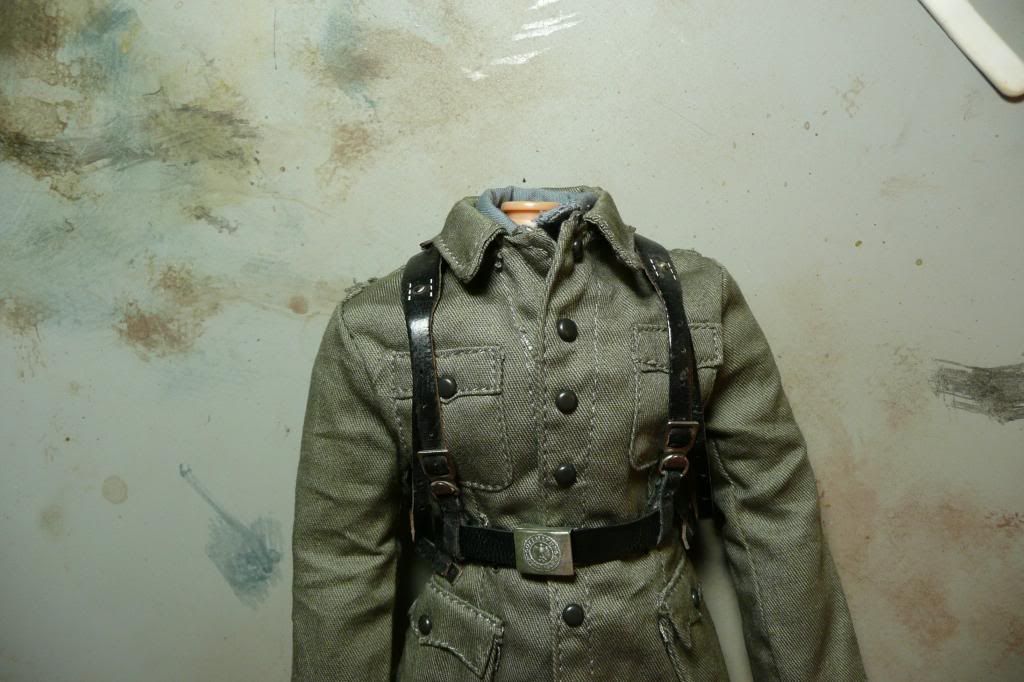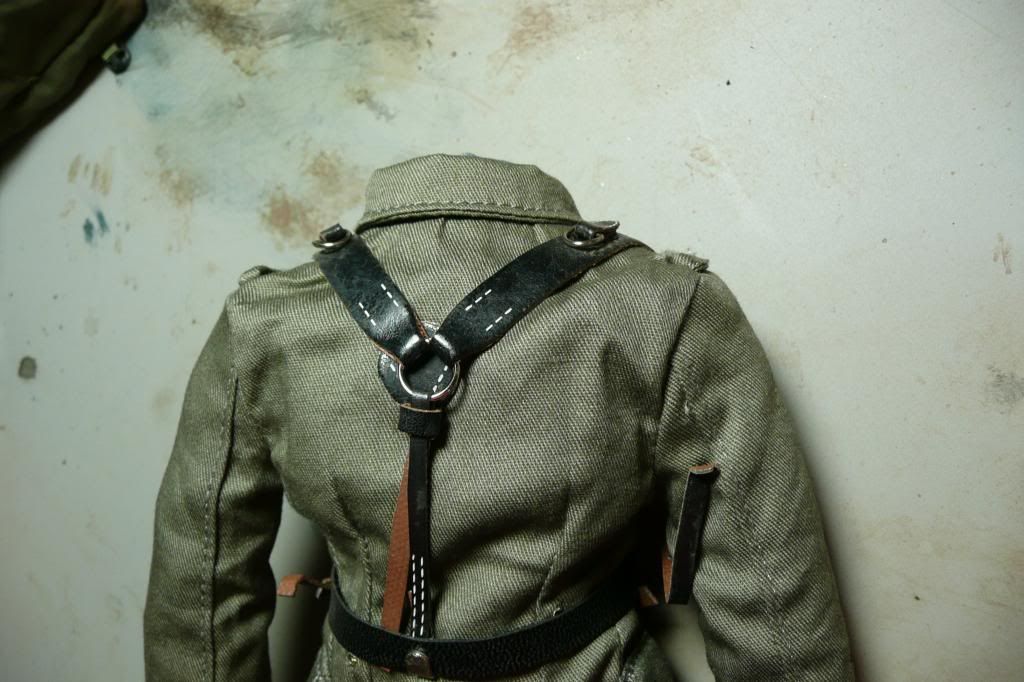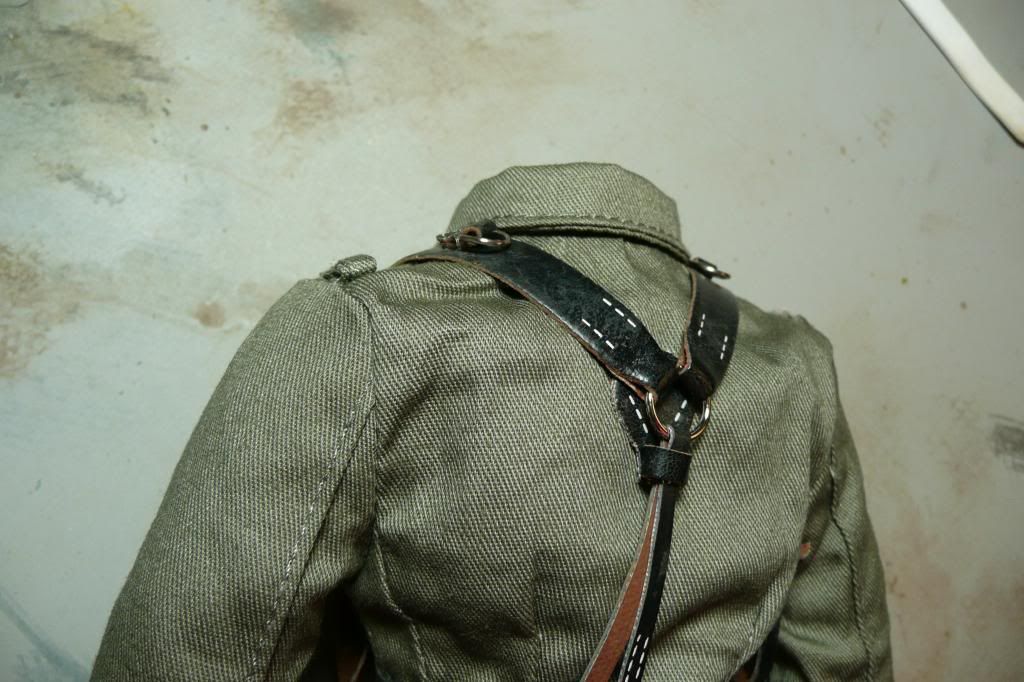 Notice how "collapsed" and wrinkled the shoulder looks, especially from the rear. The front angle doesn't look too bad, yet, but I guarantee that with lots of handling the wrinkles will become more pronounced and the shoulders will look more and more sunken. This one is "fresh" out of the box and has no equipment weighing it down. The effect becomes more exaggerated once a head is on there too.
This winter my big 1/6 project was to do a Grossdeutschland Pionier section, with about 9-12 figures (depending on eventual load-out), so it was an opportunity to do some assembly line type work and see how consistent I could make these shoulder pads. Up to now I've always only worked on one figure at a time, so it was a new experience. I've got four done, with four more in progress.
Here is the shoulder pad template. I use a chino type cloth, available from any fabric store: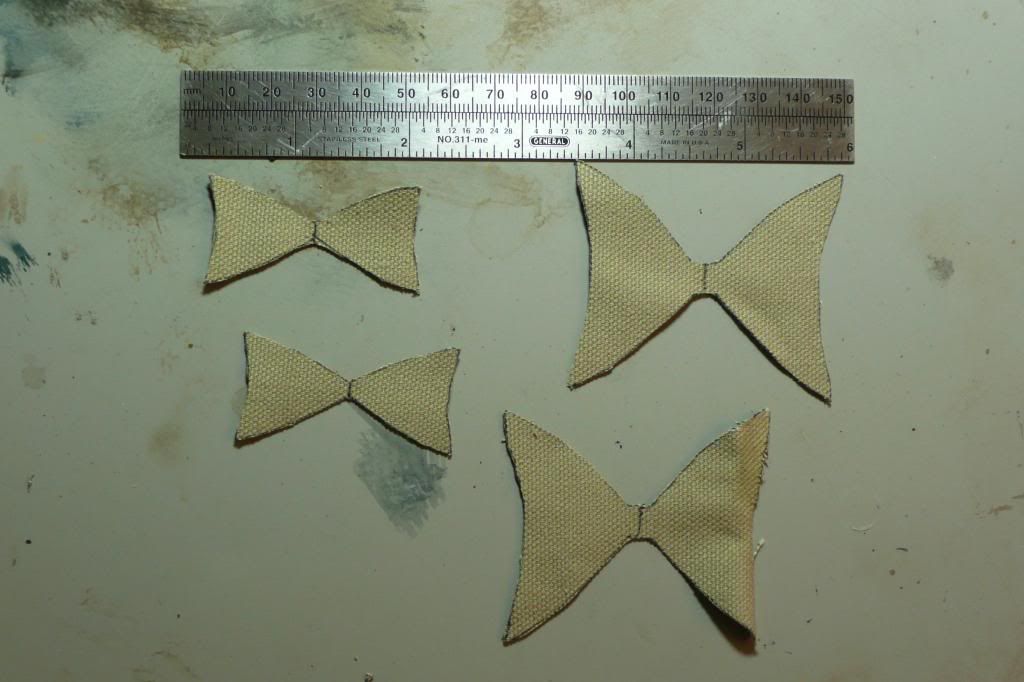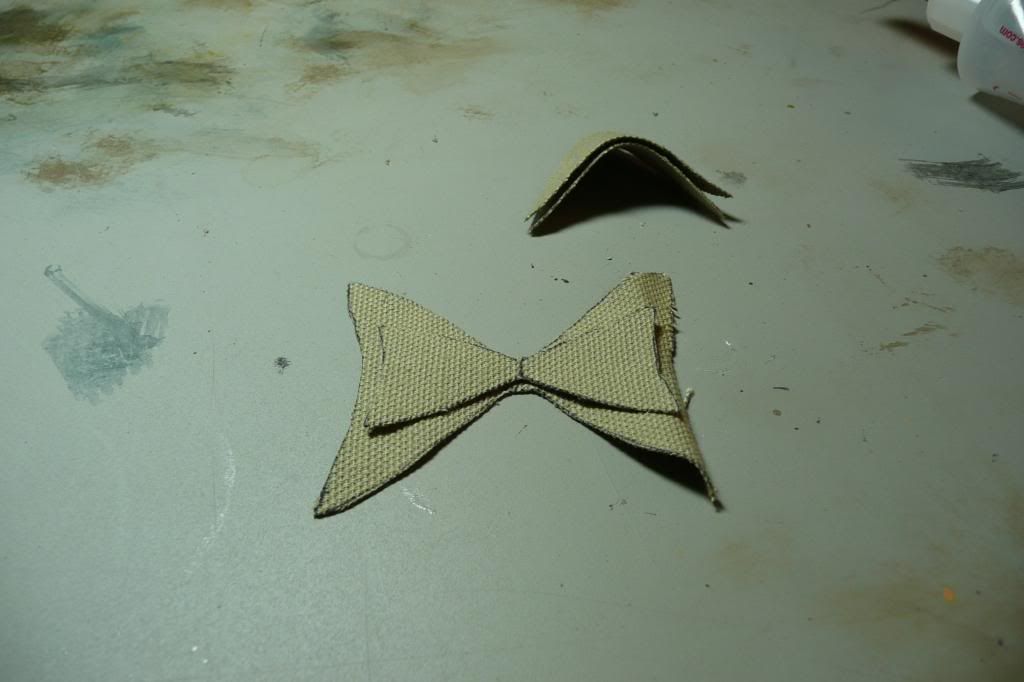 The smaller one is the inside layer. When you fold it over and glue it all together, curve it over your finger in the direction shown. Here's how it looks glued into the Feldbluse: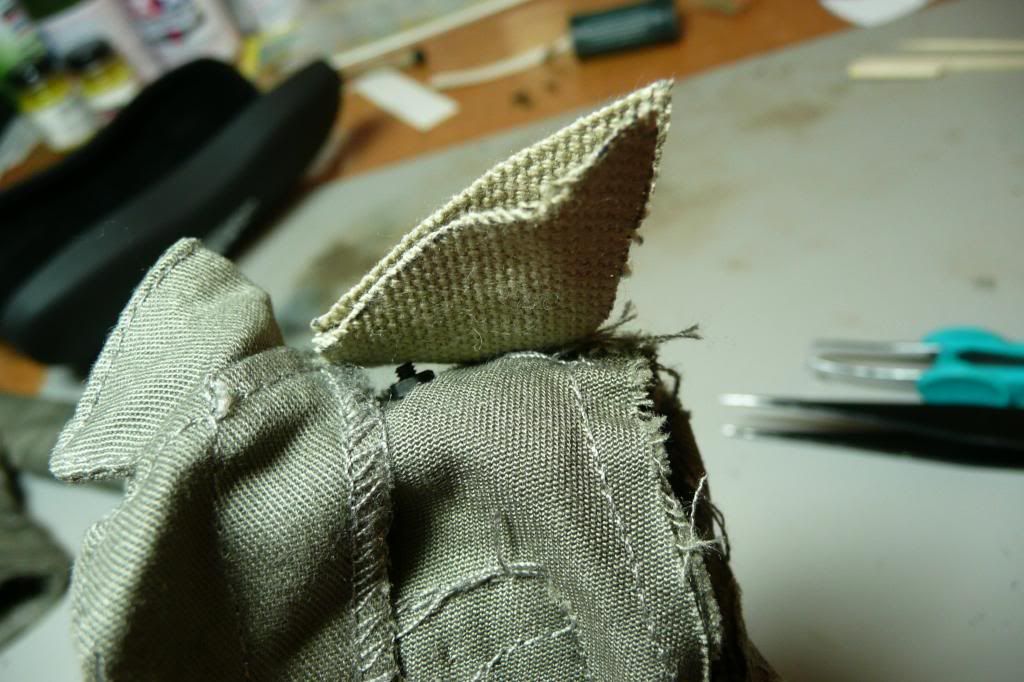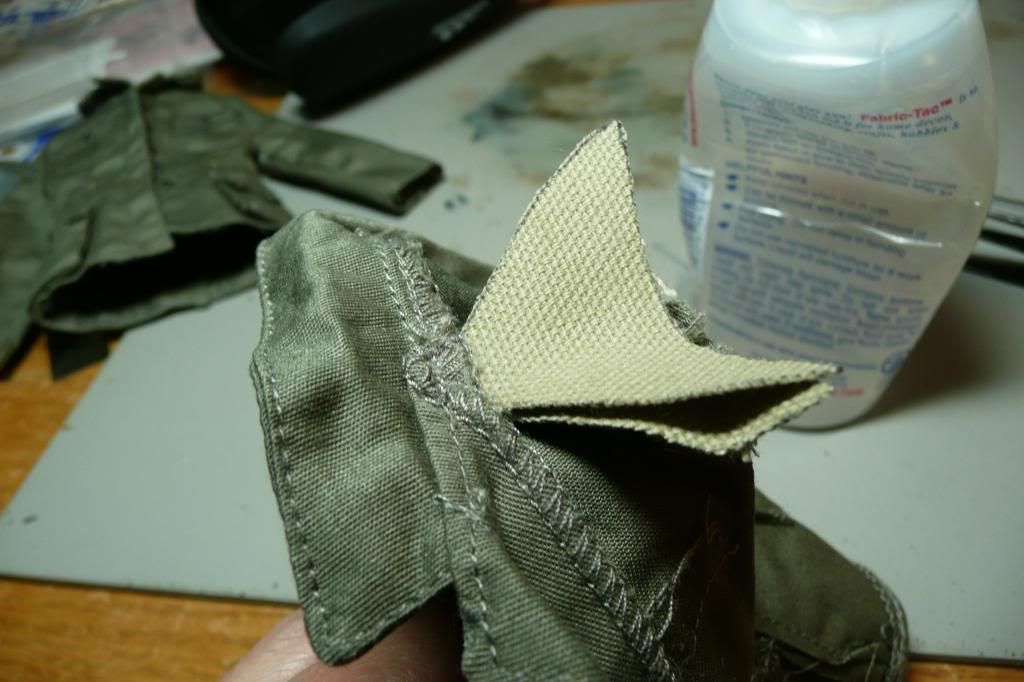 For best results, glue only along the top seam to attach the pad. The rest of it should ride free inside the jacket, just like real shoulder pads inside a lining. Otherwise, the glue will turn the whole shoulder area into a hard shell which will make posing difficult. Also, any shoulder boards need to be attached first, since the area is not easily accessible once glued. Finally, it helps to tuck the corner under the seam where the collar is sewn in, to keep things neat.
Here's how the same uni from the first pic looks once finished, with loadout but minus head, so you can compare apples to apples: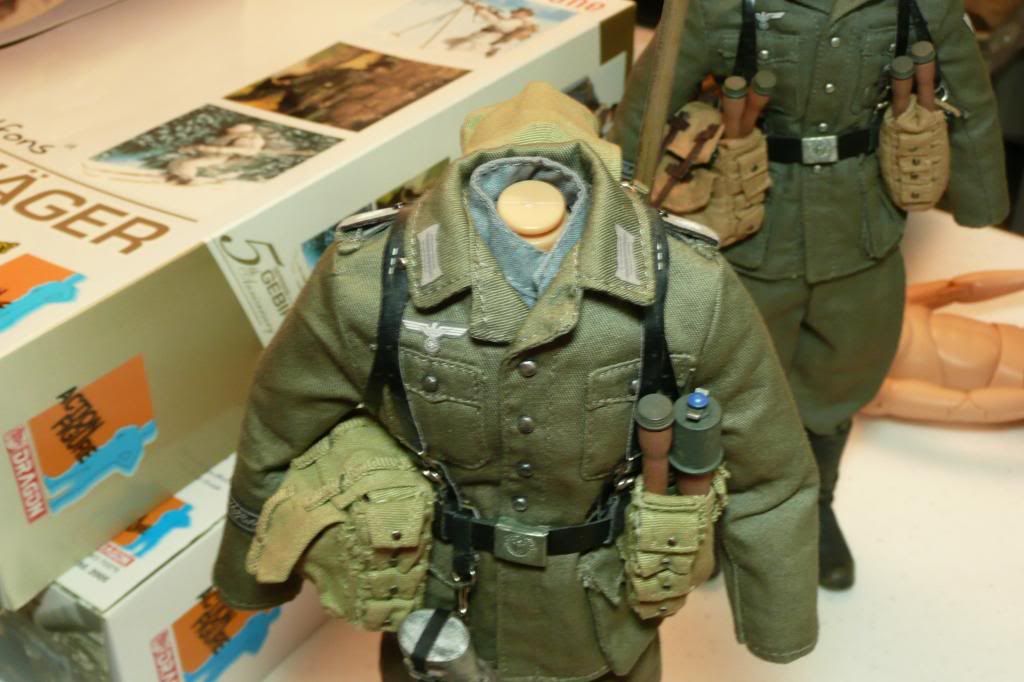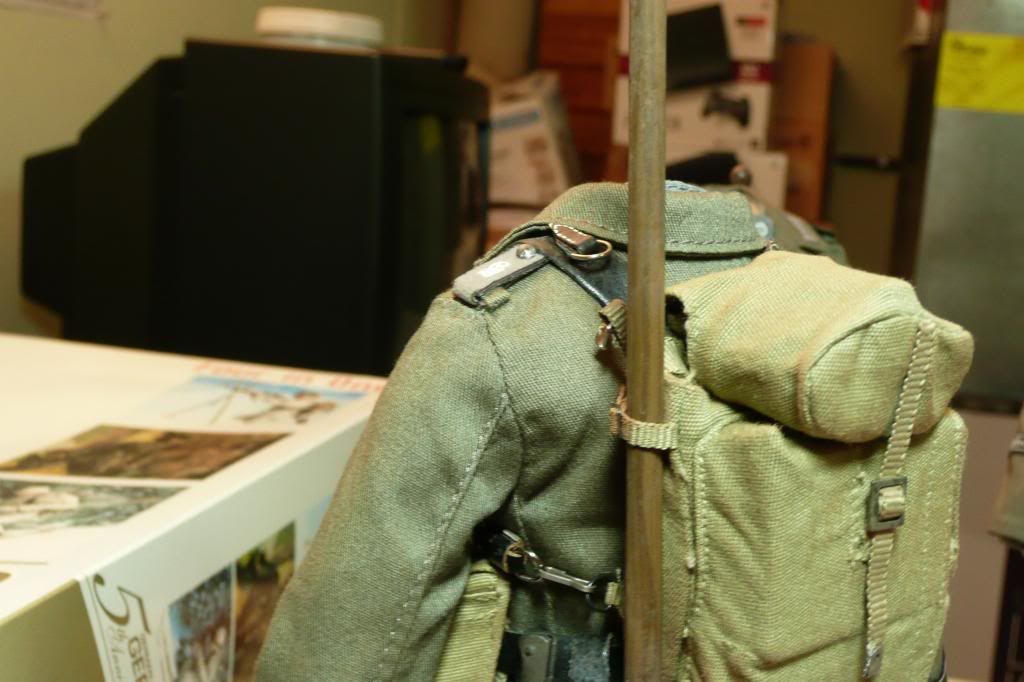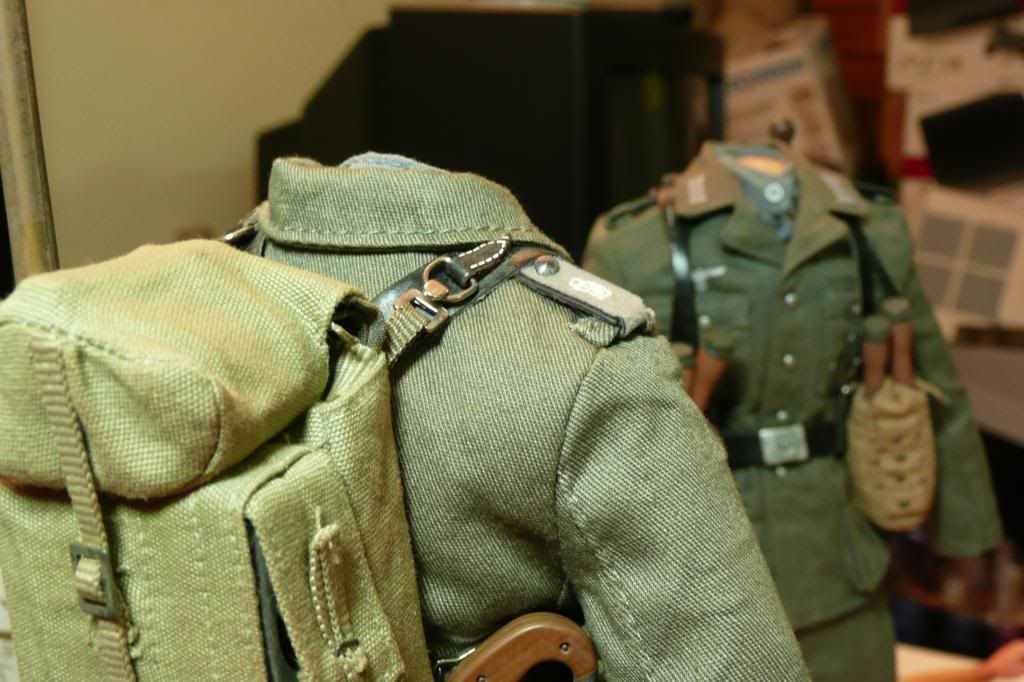 There is now a fair amount of weight sitting on the shoulders with all that equipment on, but notice how smooth the shoulders look with the padding underneath, as well as how much more natural the shape is. There's still a tiny bit of wrinkling (more like "waving") but it's way better than unmodified. Here's three of them in a group, two M40s with the above M42: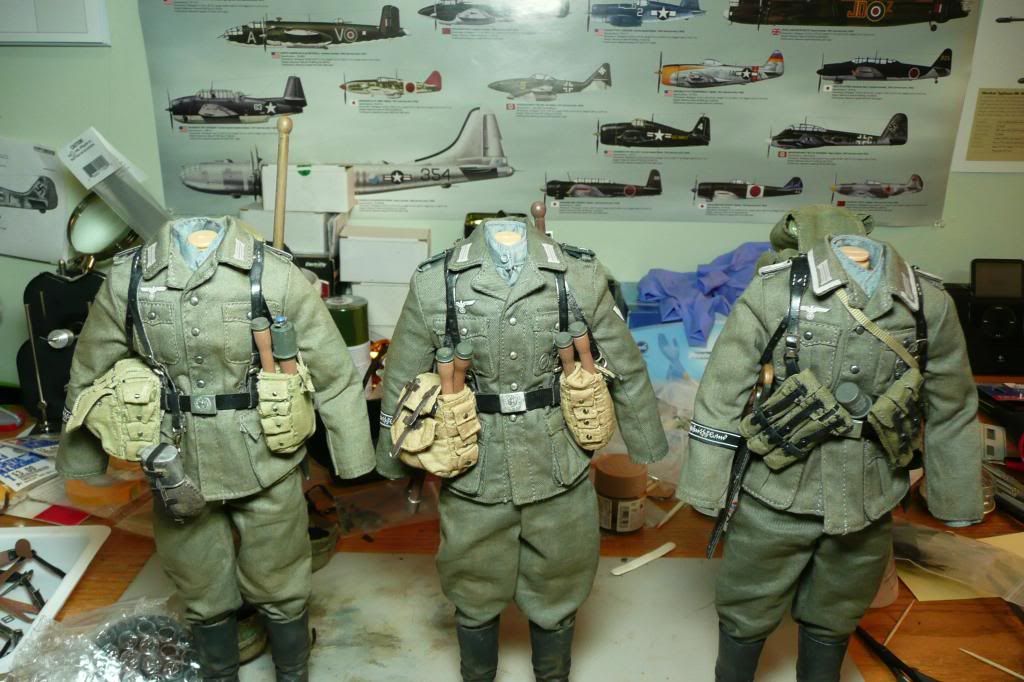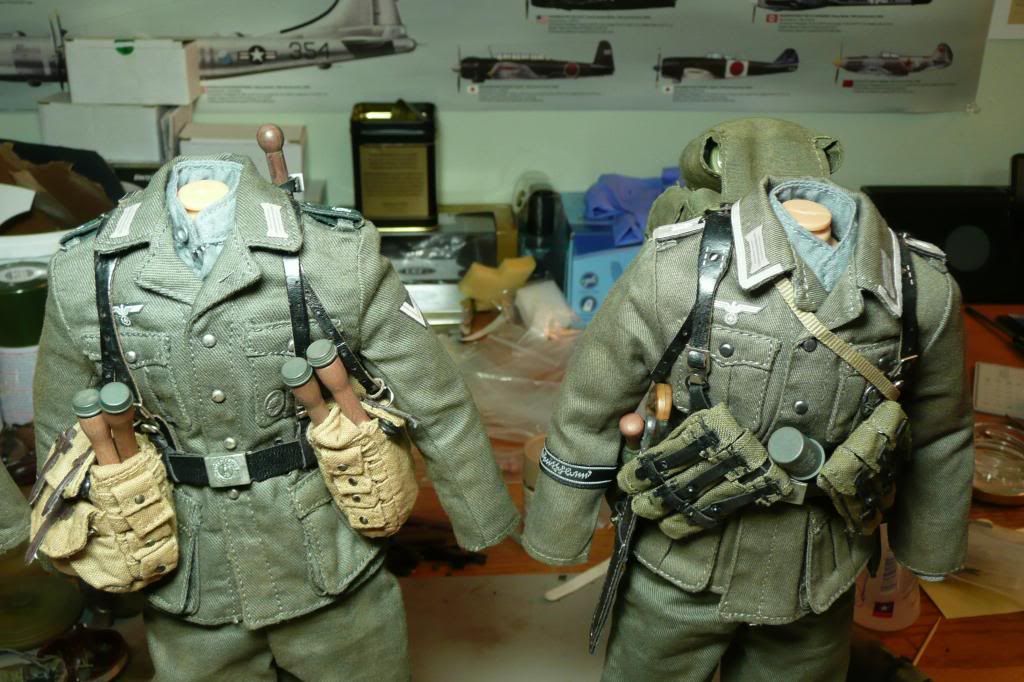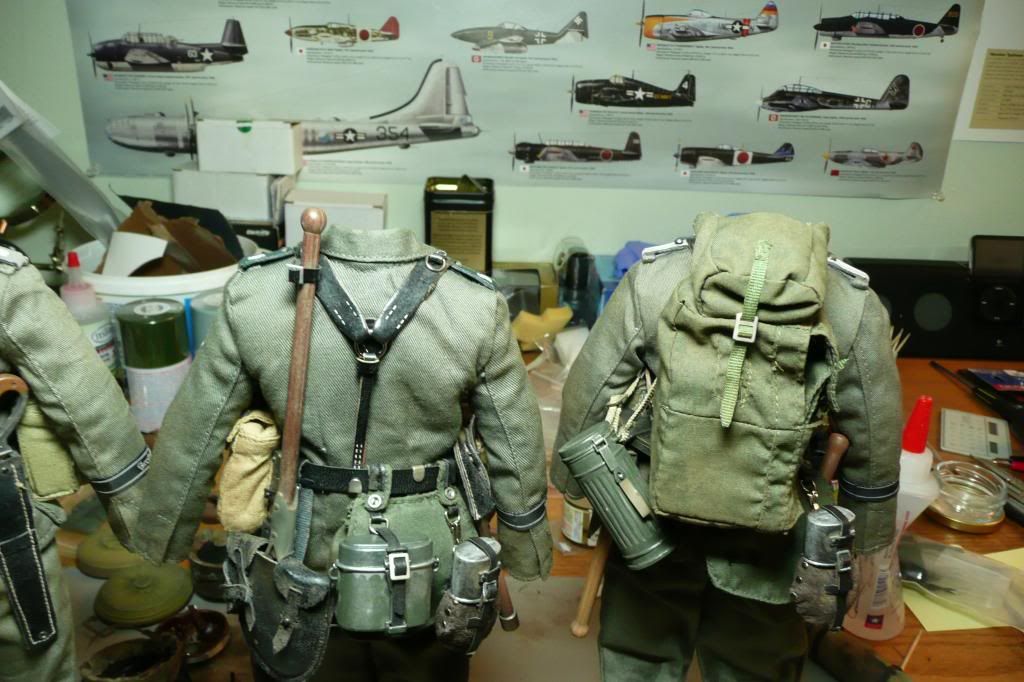 I ended up changing the load-out on the Underoffizier, but you get the idea. There's a little more wrinkling on the Obergefreiter's shoulders, but it's still acceptable to my eyes. BTW, all insignia are CVI, except for the cuff titles, which are Dragon, and dark green shoulderboards on the Obergefreiter, which are DiD. All equipment are Dragon except for the canteens, which are a mix of old-style Dragon cups and DiD water bottles. Also, I broke my own rule regarding snaps and left them on the front corners of the flaps of the sidepacks on the Obergefreiter-- I wanted to be able to remove the explosives and grenades on that one so I put up with the unscale look.