For my fourth and final installment of this photo series, I chose Feldwebel Alfred Bindseil of 6./JG1, who flew missions for the Defense of the Reich against the dreaded Viermots (B-17s). Bindseil had five confirmed kills before getting shot down and presumed dead over St. Lo in August '44, so he is technically an "ace" by Allied standards but was certainly not considered an Experte by German standards. What is known about him (and it's not much) is that he was a reliable and veteran NCO wingman of the II Gruppe based out of Störmede.
Why such an obscure figure? Because, as I mentioned in my Kittel thread, about two years ago I bought an ESM 1/6 scale FW190A8, which just happens to be painted up in Bindseil's colors. It's still sitting in its box unbuilt, but when finished it should look like this (straight out of the box, without any painting on my part):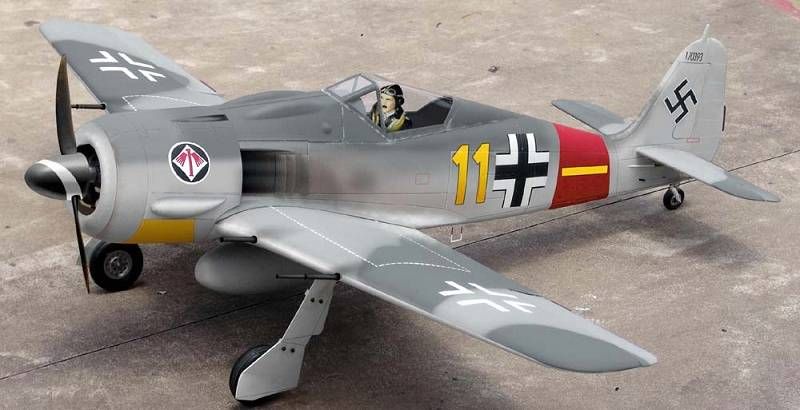 It seems odd that a Chinese RC model company would choose this paint scheme of an obscure pilot, but the reason is probably because there is a replica 190 in this paint scheme sitting in the Luftfahrtmuseum Hannover-Laatzen in Germany. I might end up painting it up in Kittel's A7 colors from JG54, but only after I've flown it and worked out any bugs or crashed it. (I've learned from hard experience never to paint up a plane all nice before its maiden. It's just bad luck!
)
I've only managed to find one picture of Bindseil in one of my books (none on the net), but it's enough to go on:
Once again, as in my Gollob figure, I wanted to do a fully loaded figure as he would have looked in the cockpit, not based on any actual photo on the ground. Here's my take: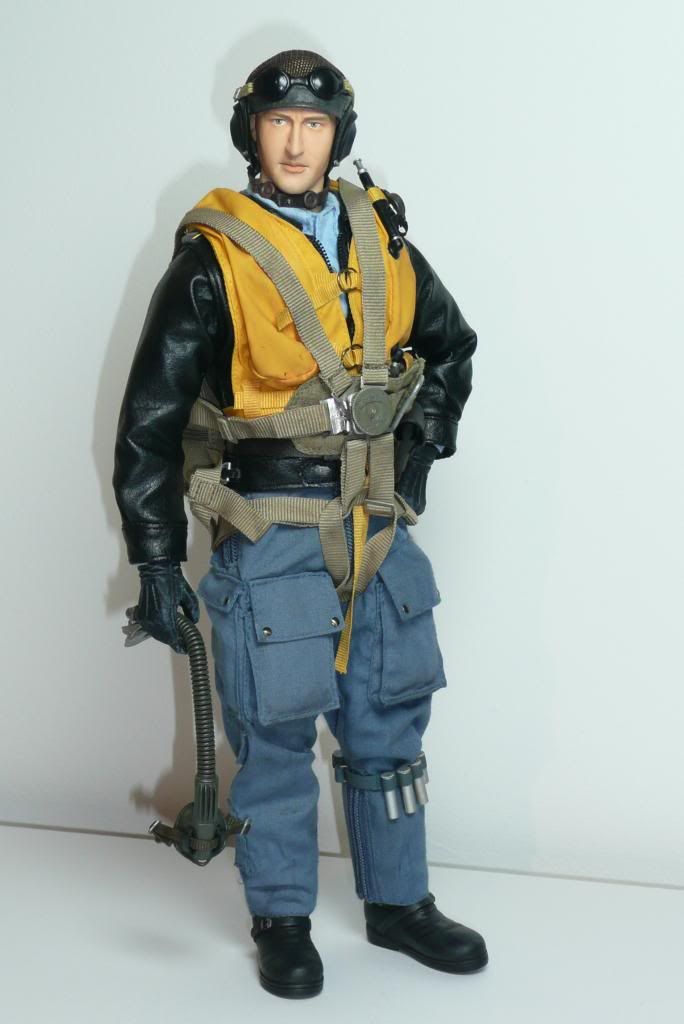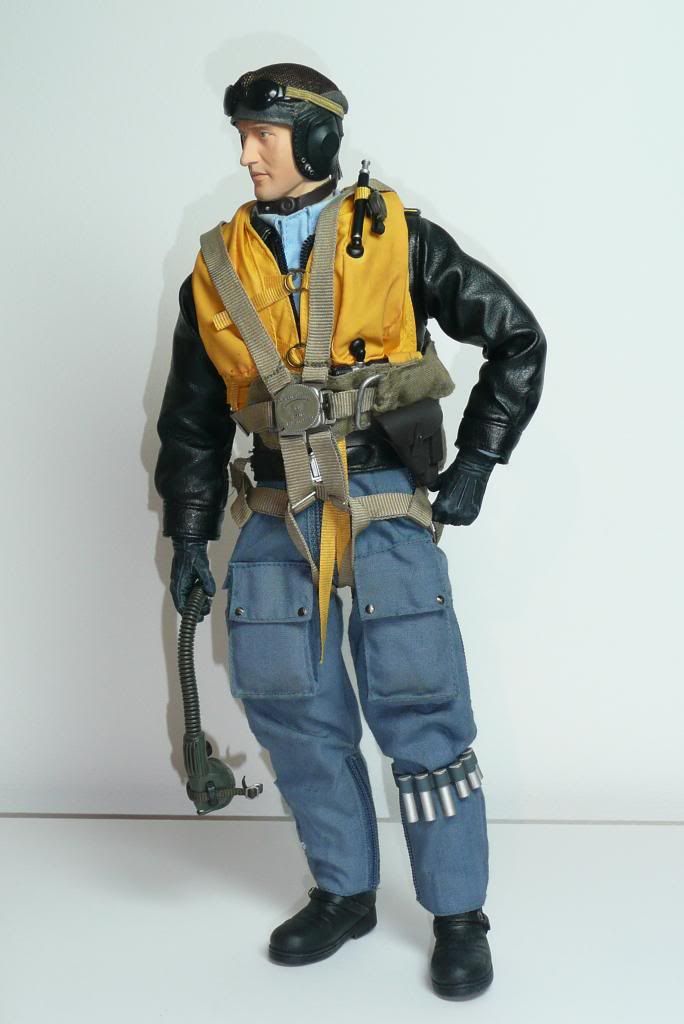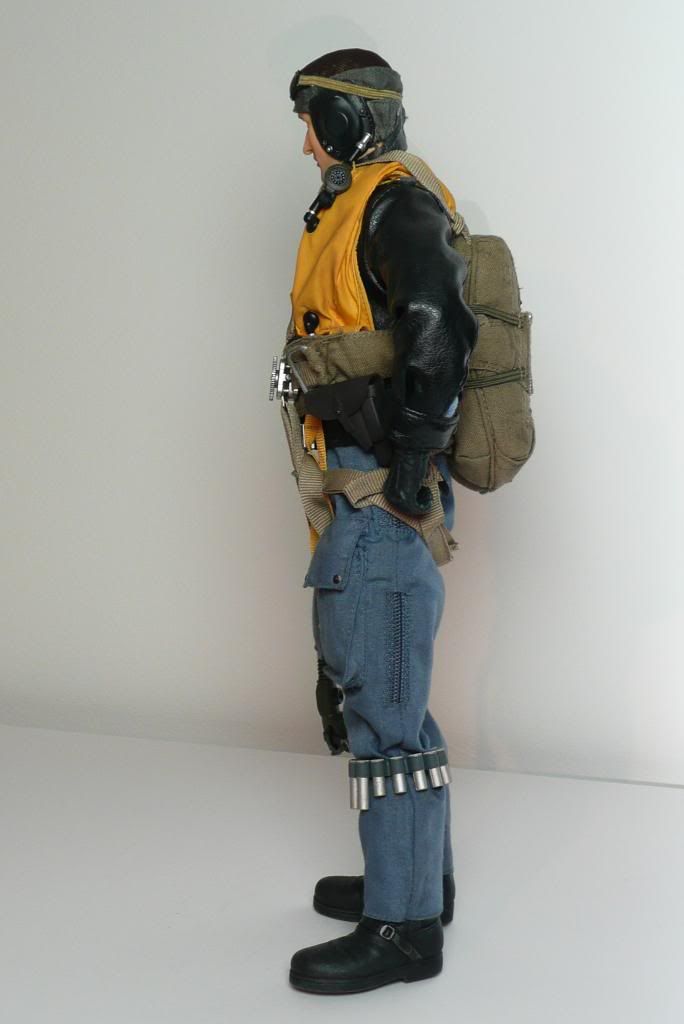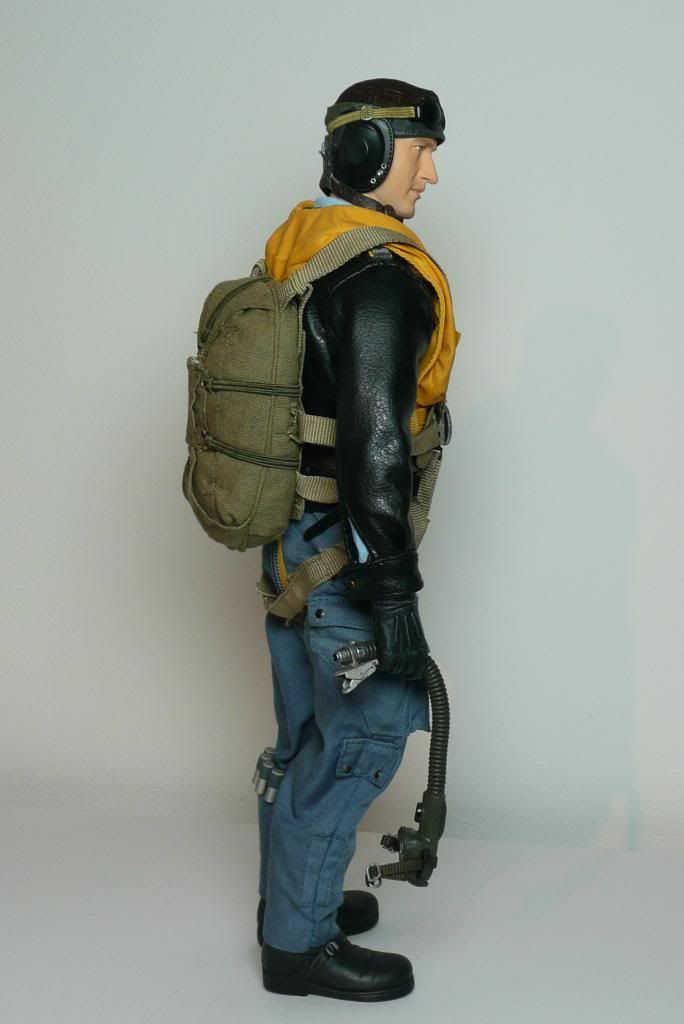 This was a much simpler bash than the Gollob figure, because I didn't give him all the extra goodies and equipment. The headsculpt is Dragon Peter Coates, which although not perfect has the long narrow features from the photo and he's also a blonde. All parts and clothing are Dragon, except for the leather jacket and oxygen mask (both BBi Ernst Wagner). The leather jacket is very nice, except for one glaring thing that really bothered me: that huge honking zipper that looked like someone had attached a 1/6 stapler to it! Luckily, in this bash it's completely hidden by the Schwimmweste. I also added Feldwebel shoulderboards with CVI tresse to the jacket. Schwimmweste has all stuffing removed as in the Gollob figure.

Once again the LkpN101 helmet (Dragon Eugen Kroh) needed a little tweaking in the back to look right, but I like the fit once modified. I did not add my last remaining spare audio cord to the back as I'm saving that for a future bash. The goggles are the Splitterschutzbrille type also from Eugen Kroh, not quite as nice as the BBi one but still pretty good and just needed a new elastic style strap. BTW these low profile goggles were by far the prefered types worn by fighter pilots who did not like wearing the larger model 295/306 styles as found in the BBi Wagner and Dragon Krauer figures--those were usually worn by bomber pilots and gunners.

The Ruckenfallschirm backpack style parachute I think came from the Dragon Pifer figure. Compared to the BBi Sitzfallschirm, it is a pretty lame piece. Terrible fit and finish and very flimsily put together. But, it's the only one out there, and is correct for a FW190 pilot, so I really had no choice if I wanted accuracy. The parachute body was way overstuffed and looked ridiculous, so I cut a slit and removed a lot of the stuffing, reshaping it as I could to give it a more "molded" look to the back (the real one has a molded aluminum tray which rests against the wearer's back). I also removed the strangely small stock D ring ripcord handle and made my own out of wire, a simple mod. Finally there's the Irvin-style box-type quick release harness latch, which is just terrible, almost completely non-functional. I don't know how Dragon was expecting the end user to be able to attach the harnesses to it, but short of permanent gluing it was impossible. Fortunately, I had a spare BBi seatpack chute, and I was willing to sacrifice the excellent latch on that one for this bash, so I swapped it out. The only tricky thing was that the two-prong buckle end on the right chest strap wouldn't fit into the teeth on the latch, so I had to cut it and stretch it wider to get it to fit. Some aluminum tape hides that surgery. Now I have a working latch, which is good because depending on which paint job I settle on for the 190, chances are good this chute will get moved around between a few different pilots.

And some outdoor shots: