I can't believe it's been over a year since I started this project. In reality I got really burnt out with it last fall and took a nine month break until the end of this past summer, so it's really only about five or six months of total work, but it was still a lot of work!

For those of you who are interested, the original build thread is here: http://onesixthnet.yuku.com/topic/546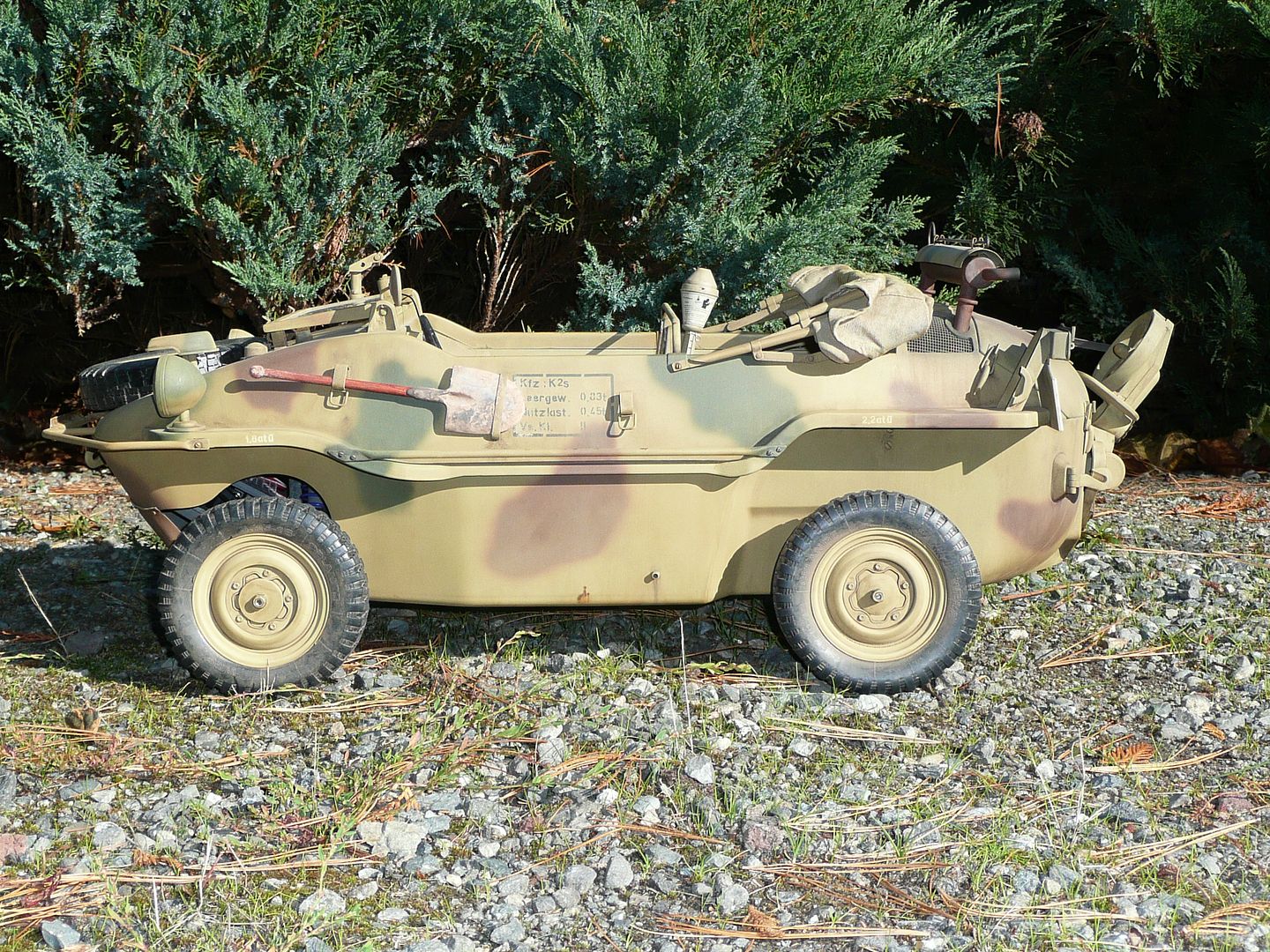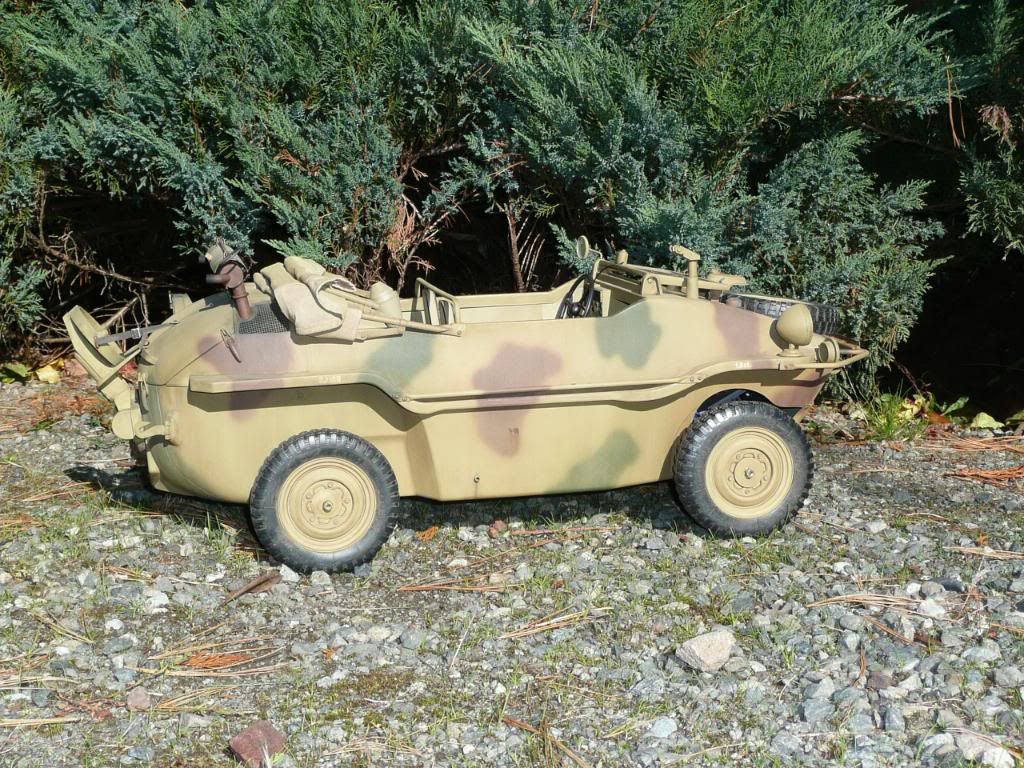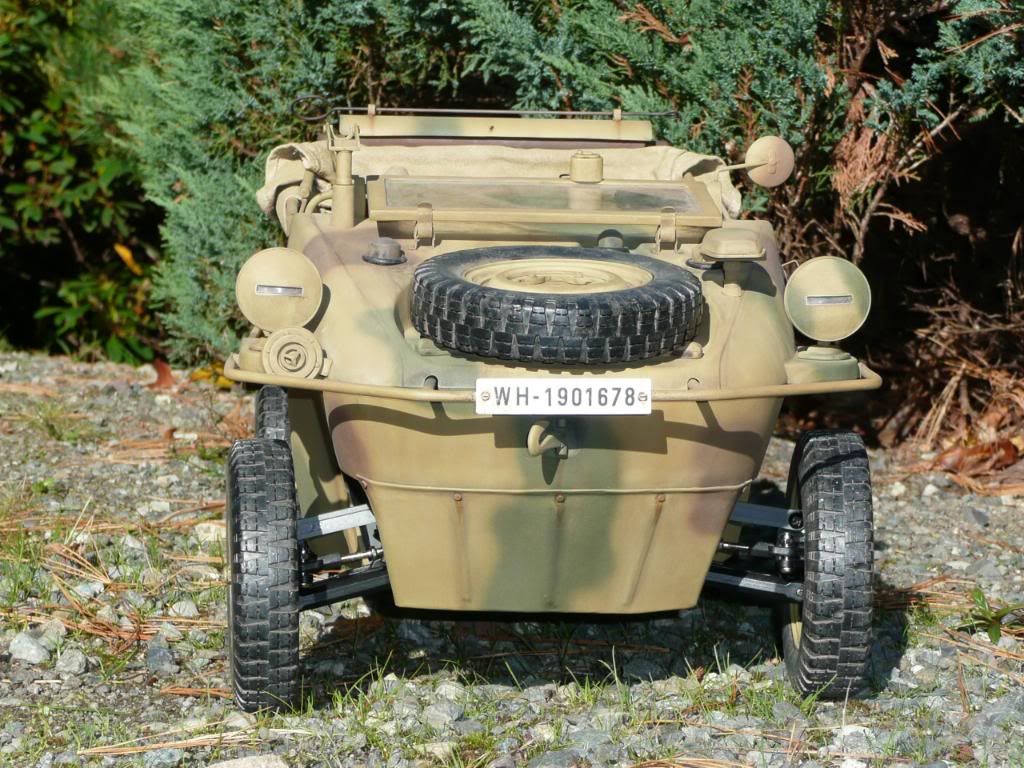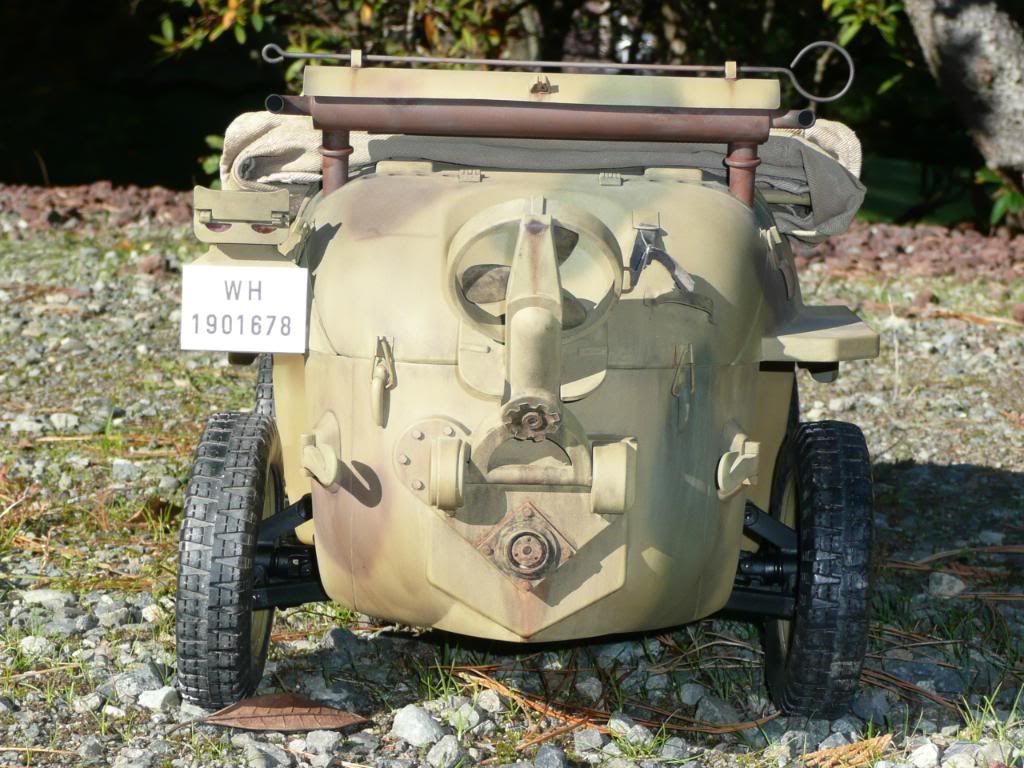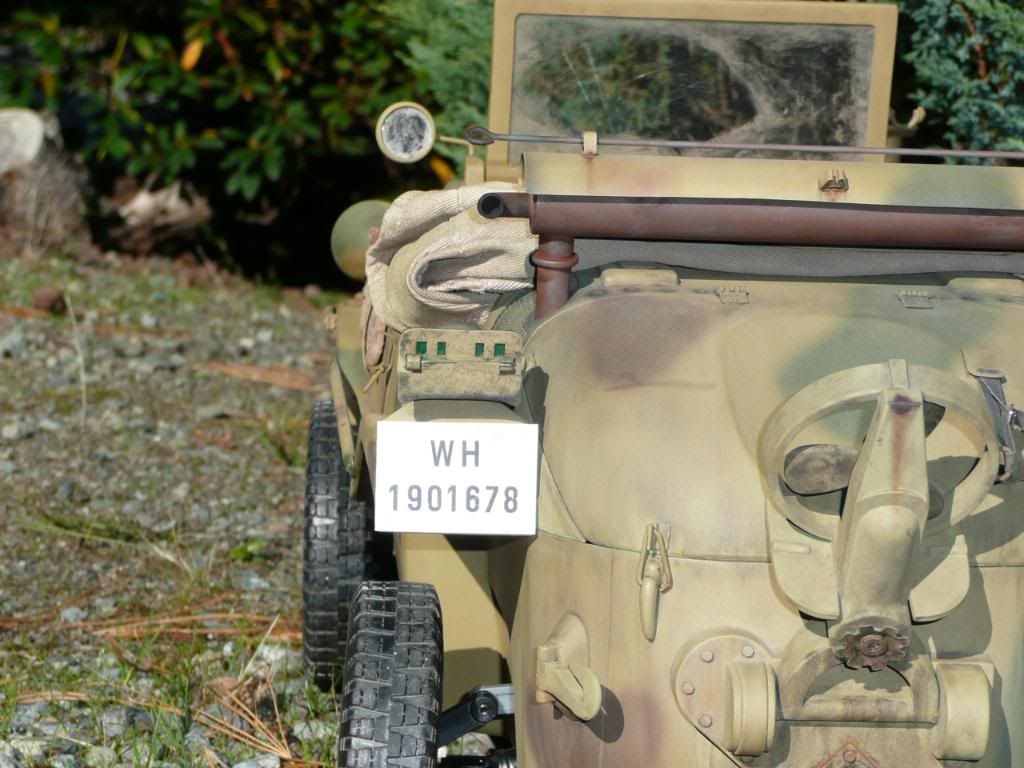 When I left the project last fall, I still had a few details left to finish, but those went quickly: windshield wiper, dash details, DML wheel mods, seat upholstering, a few remaining nuts and bolt details, the transparent plastic in the rear Notek.
However, the painting and weathering was anything but quick. Part of the problem is that I hadn't airbrushed anything in over twenty years, so I was relearning and improving my already rudimentary skills as I went along. But I'm pretty happy with how it all turned out.
I chose the classic three color camouflage: dark yellow, red brown, and olive green (all Tamiya acrylics). I wanted the camo to look field-applied, so I had to first apply decals after the dark yellow base coat was done before spraying the other two colors. I then let two of the red brown patches "wander" a bit over two of the decals, to look like it was applied in haste over it. I tended to apply the camo colors too saturated and opaque, which looked too perfect and toylike, so I hit everything with a heavily thinned fade coat of dark yellow to tone things down. This also had the unintended benefit of highlighting some raised detail, just as drybrushing does, so it saved me a little work at the end.
I airbrushed the exhaust a brown/black acrylic mix, then hit it with a lot of Rustall. Rustall is water/alcohol based, so it will lift acrylic paints underneath it and ruin it, but this was perfect for the purpose. It ended up exposing some of the gray primer coat, which was lacquer and thus unharmed, and looks like bare rusty metal, at least to me. I then airbrushed black to simulate exhaust stains as well as "engine dirt/grime" around the all the rear deck openings/apertures, and lightly sprayed all around the rear area where I thought exhaust stains would settle, such as the top of the Notek.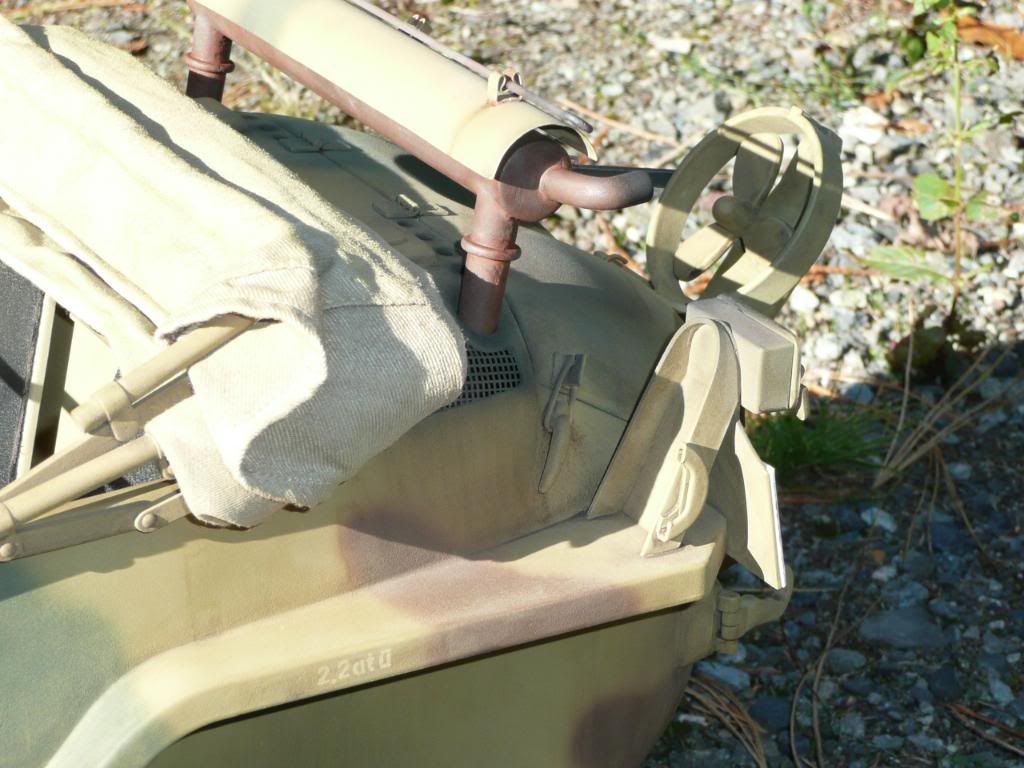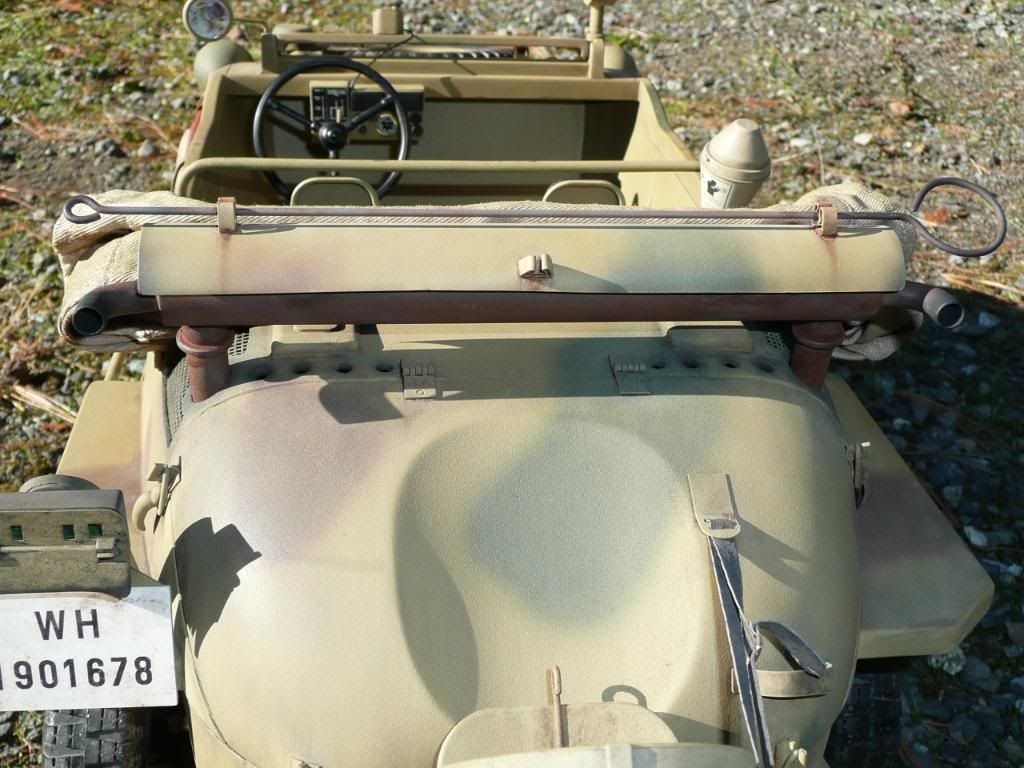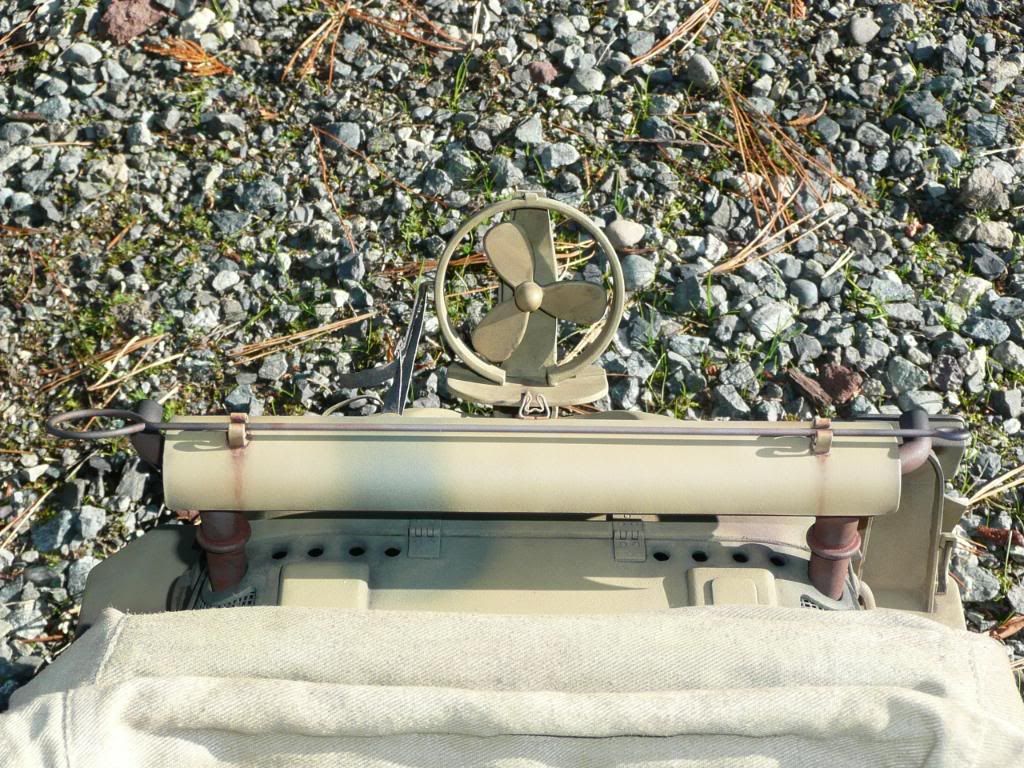 I did most of the weathering with oils, and though it was my first time trying it I was very pleased with the ease of use and results. Apparently it's very important not to use turpentine, as it can ruin just about any base coat whether it's acrylic, enamel, or lacquer, so I used odorless mineral spirits (Mona Lisa brand) for thinner, as many modelers advised in articles and books I read. I applied overall washes of raw umber and black (all oils were Winsor and Newton brand, Winton line), then I went to what scale modelers call "dot filtering" or "post shading." For those not familiar with the technique, it's basically applying random colored dots (I used black, white, yellow ochre, burnt sienna, raw umber) all over the model (do it section by section) and then taking a thinner-moistened flat brush and "wiping" it off, mostly in a vertical direction. At first it looks scary and horrible, but as you remove more and more paint and the colors start to blend, it gives a chromatic and textured effect to the base coat. It looks like dirt, dust, rust, grime, sun-faded paint all rolled into one. It was a rather laborious process on such a large model but I like how it turned out.

I then did "chipping" effects using an X-acto (really!), which took off the paint to reveal the primer. Using thin brown and black acrylics to vary the shades of the chips gives them aging and depth, and I applied some burnt sienna/raw umber for rust. Most of the rusting effects were with various shades of this oil mix, with more burnt sienna for new rust and more raw umber for old. Oils are absolutely terrific for producing that "weeping" effect, whether for rust or for general grime effects.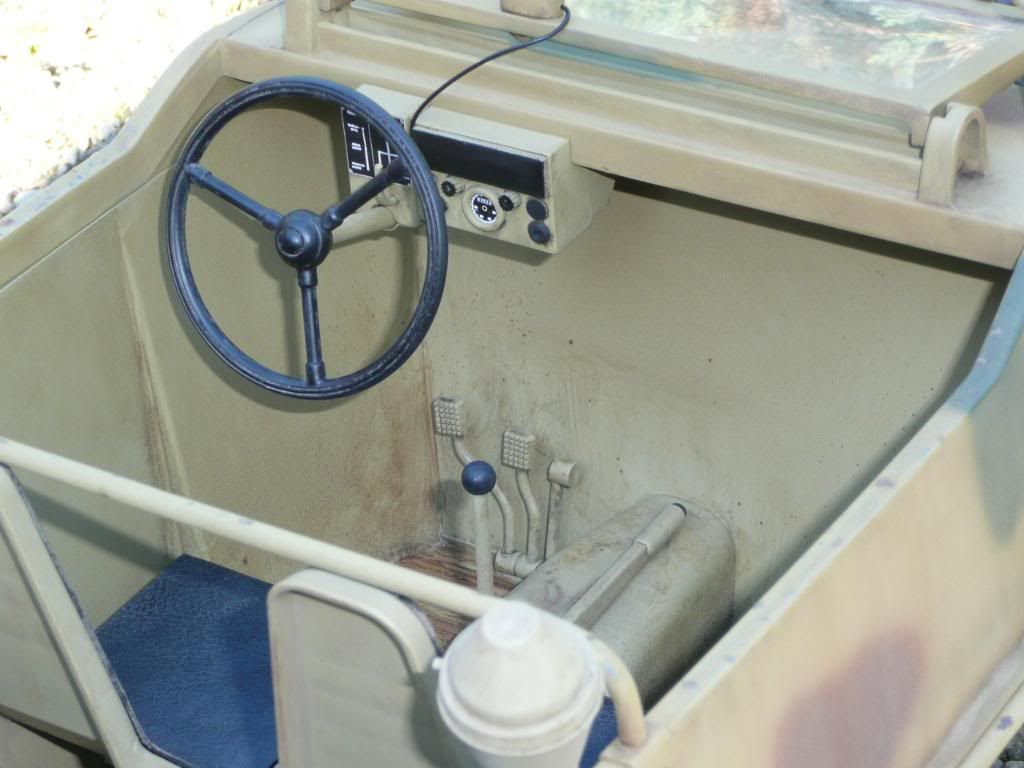 I realize that chipping and rusting can be controversial to some modelers, but I saw a photo of a wartime schwimmer's cabin clearly showing a ton of paint chips around the sill area, so I have documentation. Plus, unlike tanks, I've read that these soft skin vehicles usually survived a bit longer and thus would show more wear and tear before being destroyed or overhauled/repainted. I tried to do it judiciously where I thought things would be banging into it or the parts might rub together (bolts/rivets, prop linkage).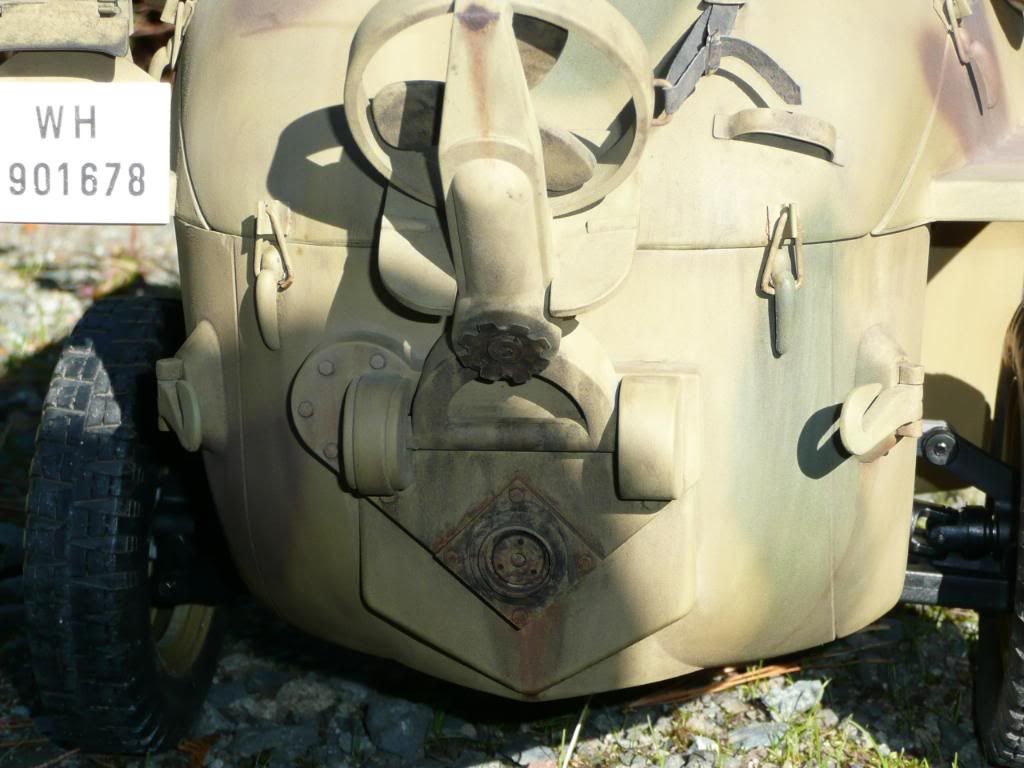 One thing I did not do was apply mud and dirt except for the shovel. After all the work I put into it, I was very reluctant to cover up the airbrush and weathering effects, and I think the mud will end up just flaking off as this thing gets handled and played with.


Finally, I sealed it with Pledge Future floor finish, once again a new technique for me. Apparently it's been used for years by modelers to give that perfect decal application and to seal with a gloss or matte coat. I can't believe I never knew about it until this project! It is the best! It's an acrylic floor polish that can be airbrushed without thinning, and gives a smooth gloss coat. Mixed with Tamiya flat base at 75:25, it is dead flat, at least as good as if not better than Testors Dullcote. I will probably never go back, especially given how cheap it is! Plus, it's non-toxic (unlike Dullcote) and can be used indoors, although I still used a mask so as not to breath any aerosolized particles. It smells like apples as it dries.
I used Tamiya flat earth acrylic to weather the windshield, seats, and tires. I painted the shovel with German grey/flat aluminum for the metal, flat flesh acrylic and burnt sienna oil for the wood (do an opaque coat first, let dry for 20 min., then drag a stiff brush over it to simulate the grain), then weathered with my usual flat earth/celluclay mix for dirt.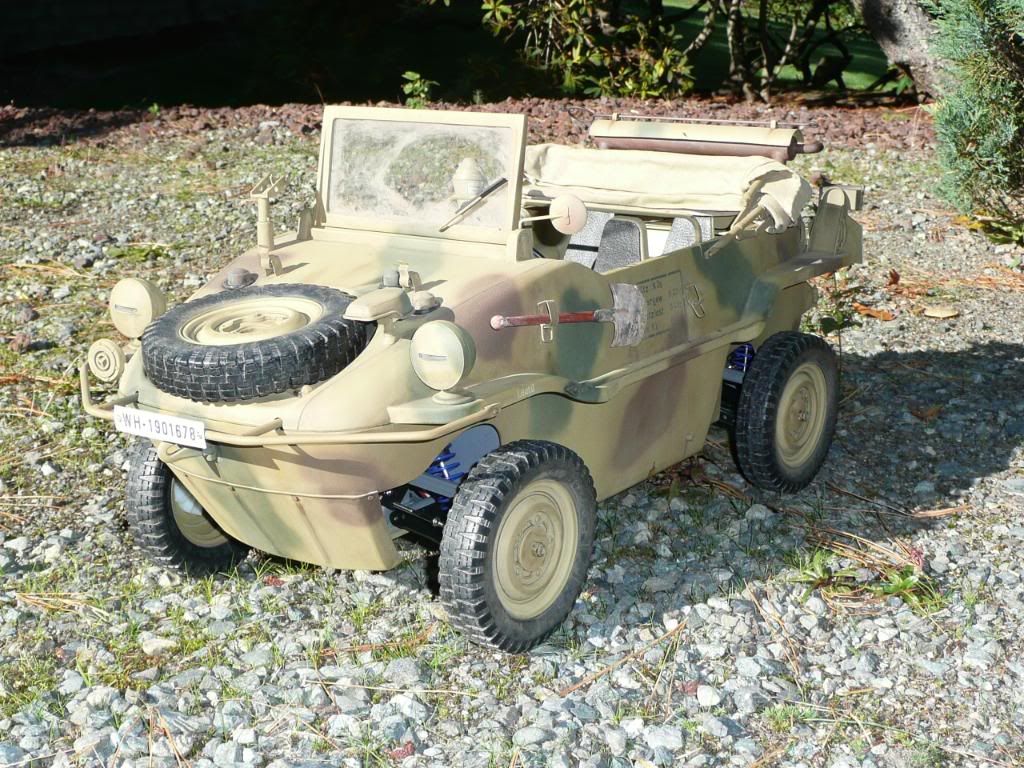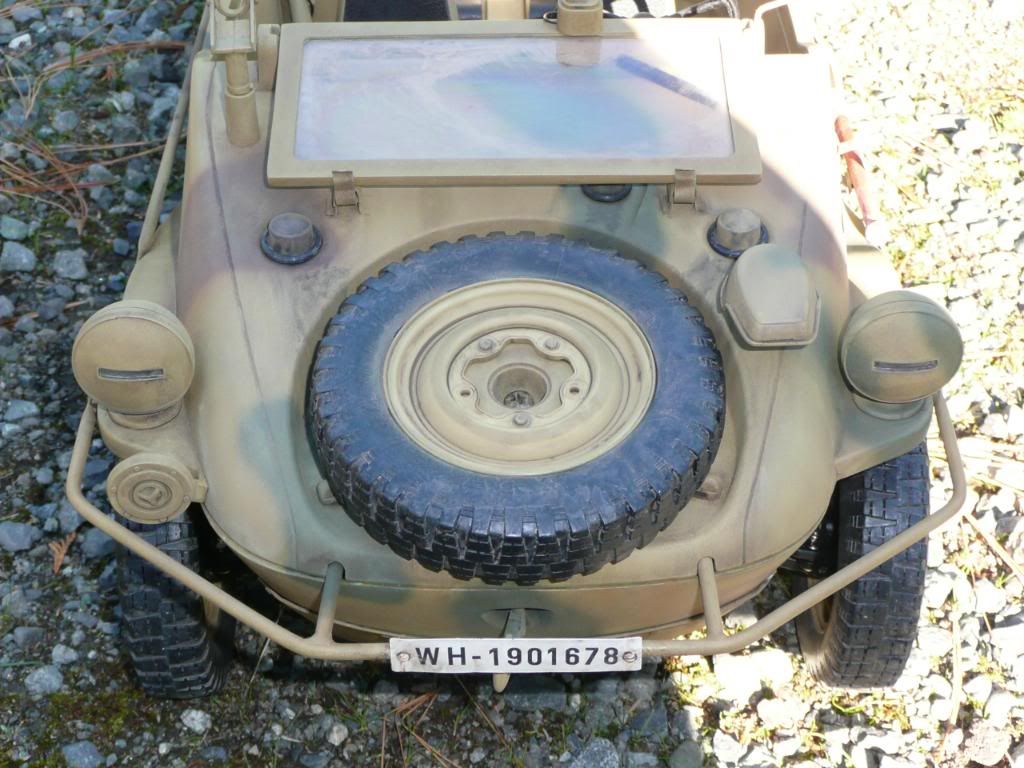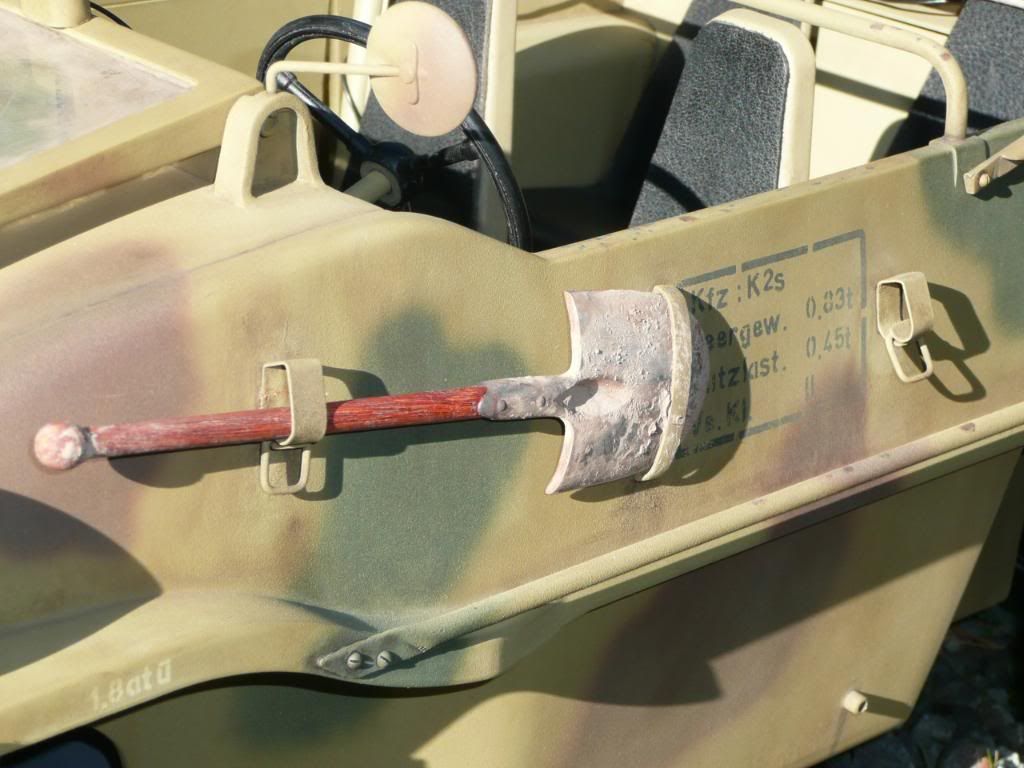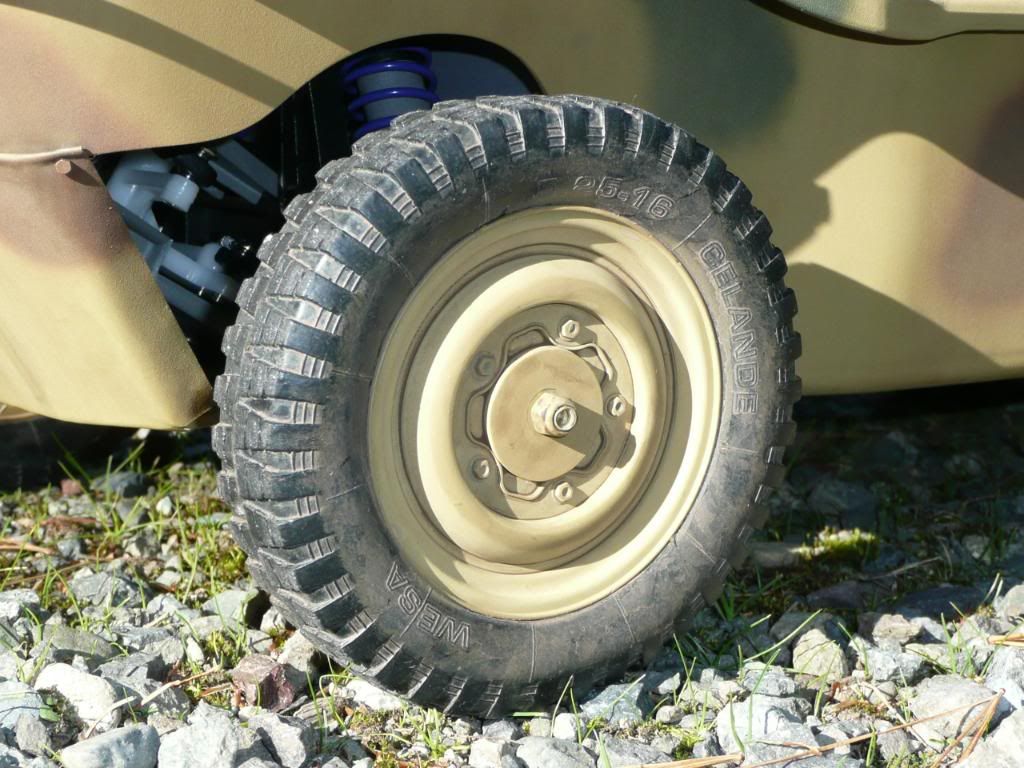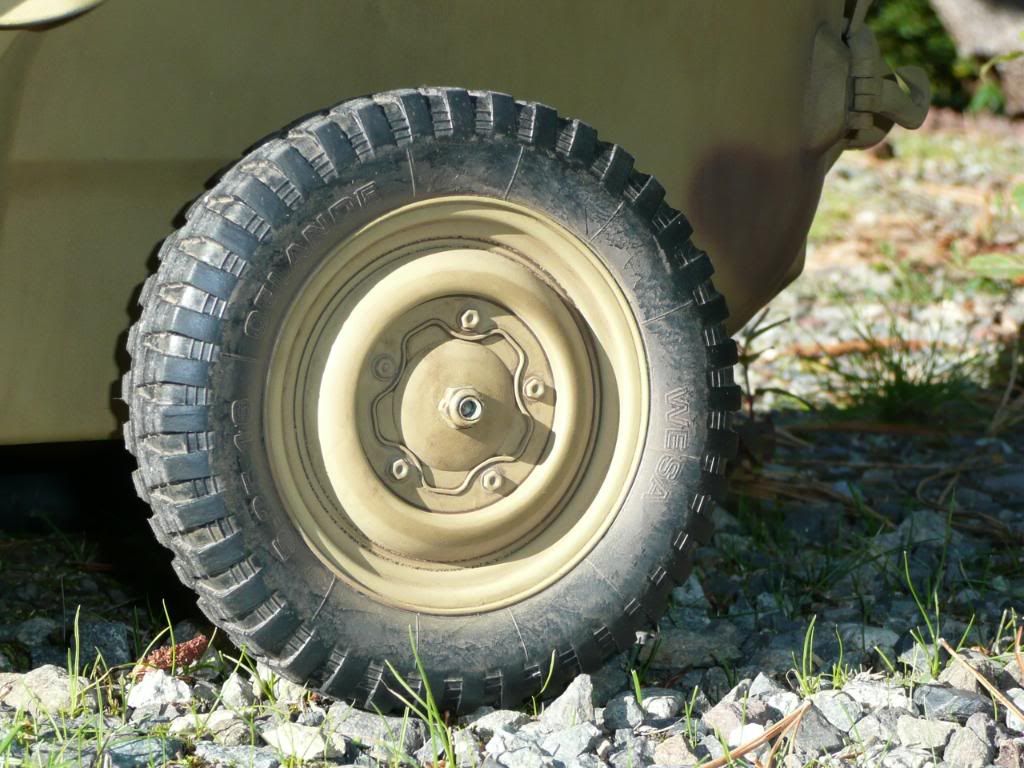 These pics represent a "naked" schwimmer without crew or equipment so you can see the interior. I did incorporate the Panzerfaust as an RC antenna base, wrapping around it on its way under and around the canopy.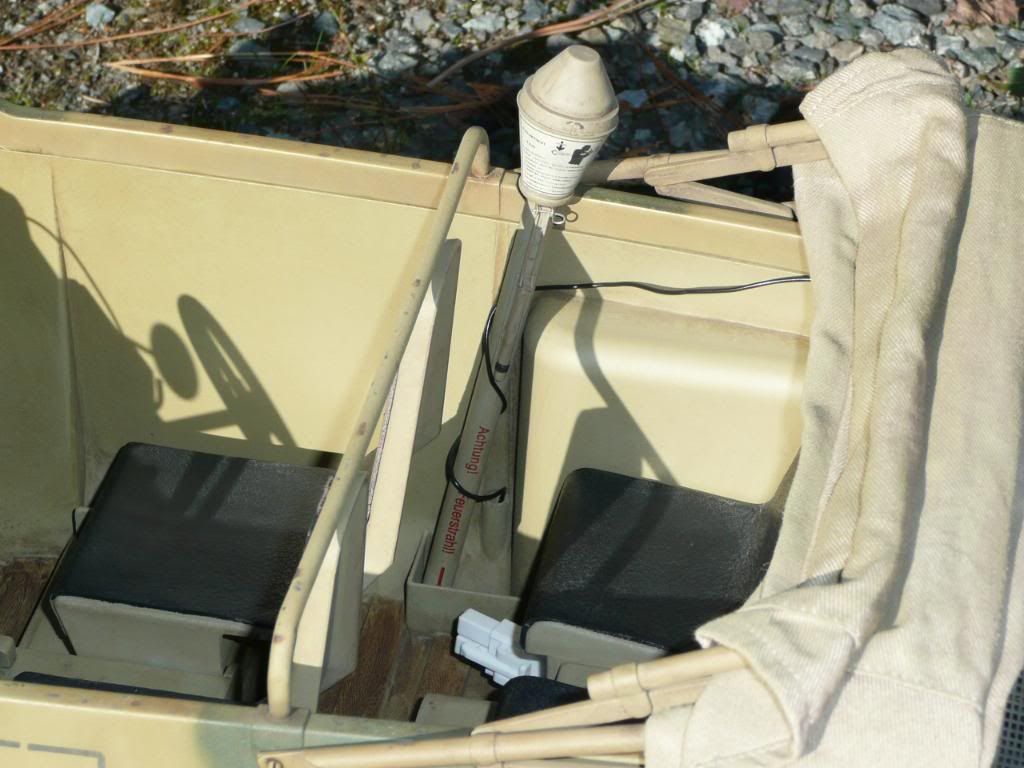 I'll try to post pics soon of a fully loaded vehicle with crew, which I'm still working on. I did give the schwimmer a trial run, and it runs great, very scale. I'd estimate a medium jog, so around 6 mph, or 36-40 scale mph, which is about right (top speed was 50). I'll also try to post video someday, though the weather's not cooperating here.